I've mentioned my brother many times before on this blog as he was instrumental in helping me to get started on the weight loss journey.  He's famous in my world for saying things like "30 Seconds at a time" and "Go SMALL or go home!"
My brother is older than me and I guess I've often looked up to him for advice and wisdom.  Yeah that's me even as a kid…looking up to him!
We both traveled the same path into the prison of obesity so I knew when he found a way out–I could too.
I'm grateful that my brother not only is willing but has a passion and desire to help others find their way out of that prison too.
So what's the story on my brother?  Well, the short version is that he weighed 450 pounds.  He used to be on oxygen.  He was given a death sentence by a doctor if he didn't lose weight. Now he's a personal trainer and runs marathons.
If you want to know what happened in between, CNN ran an article on him today.  It also tells the unbelievably true story of how my brother reunited with his long lost love, Beth (who is now my sister-in-law).
Since I lived this growing up and watched my brother literally wait 30 or so years for Beth to return to his life—I can attest to you that it's the real life "Notebook".
I know the story and I still was overwhelmed when I read it!!
I wanted to share this with you on the blog today in hopes it will give you hope to never give up on your dreams.
He lost 275 pounds, reunited with love
By Georgiann Caruso, CNN
updated 7:12 AM EST, Mon February 17, 2014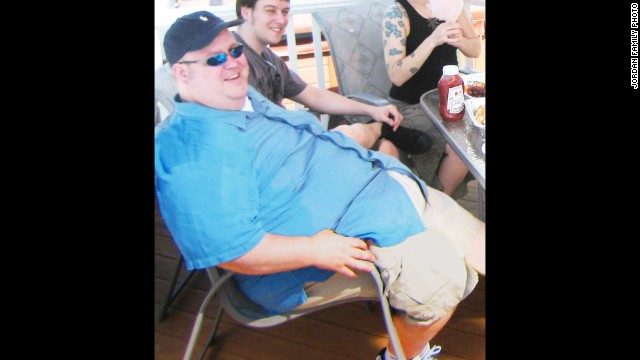 In the summer of 2007, Lee Jordan hit his heaviest weight of 454 pounds. "There are almost no pictures of me 'big' because I never allowed my picture taken," he said.
(CNN) — Every detail was planned out that afternoon.Lee Jordan was meeting a friend at a Starbucks in Herndon, Virginia. He had scouted out the area, including the parking situation, since he could walk only a very short distance.He also wanted to make sure he didn't have to stand in line and could sit without fear of breaking the furniture.
Jordan weighed 450 pounds.
This was no ordinary chat over coffee. Jordan was meeting Beth, his high school and college sweetheart, more than 20 years since they had last seen each other……
To read the full article on CNN. Com ——-> click HERE now!!!
 In case you've missed any of my posts about him, they are located here:
My brother: 400 plus pounds to Triathlete
Hope in your Future is Power in your Present
The Enemy Never Takes a Vacation